Successfully completed Pivotal Cloud Foundry Developer certification on 6th Sep 2016 through my Company STG.
Pivotal Certified Pivotal Cloud Foundry Developer! – Thirumalai Veerasamy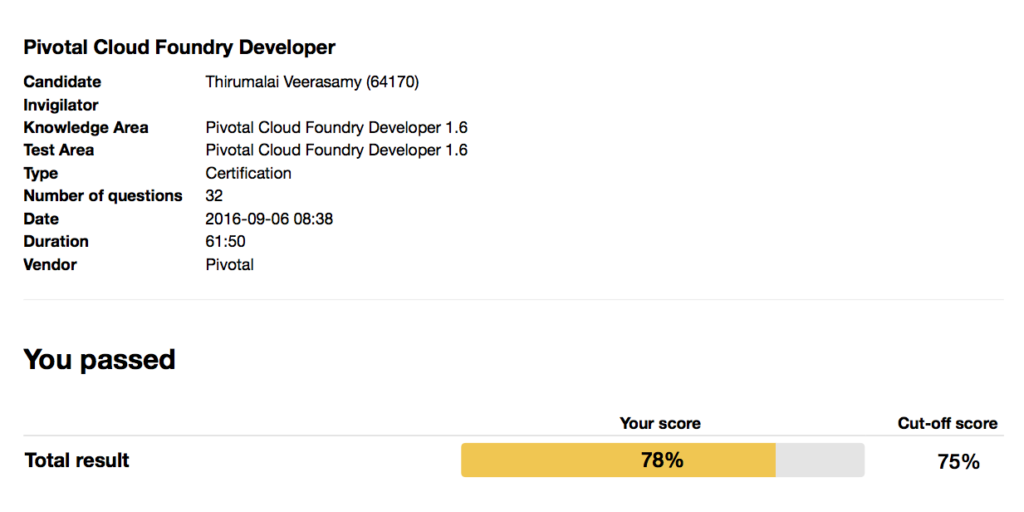 Out of 32 questions I answered 25 questions correctly and 7 wrong answers.
It is bit challenging as some of the answers are very close. 24 questions need to be answered out of 32 questions to clear the certification.
I did the following to complete the certification, it took around 3-4 weeks of time as I could spend few hours every day with other office work.
Schedule the Exam by

Search for PCF-D and click 'Next'
Provide the Date & Timezone
Check the time slot available, please check the screenshot below
Run the compatibility test and make sure all the checkboxes are ok except the 3rd Party Cookies, Webcam/Resolution. Which has to be done manually.
Make sure you login 15 mins before the test and work with Live Agent to go through certain checks to get ready.
Good Luck !